R.C.I.A. (The Rite of Christian Initiation for Adults) is a group process that involves both learning about the Catholic faith and applying those beliefs to daily life. Sessions are held on Sunday mornings, monthly during the summer and weekly from September through May. The Sunday sessions consist of a discussion of the scripture passages that are read at Sunday Mass and a presentation on some aspect of Catholicism or Christianity.
The R.C.I.A. is for those 18 and older who have never been baptized, were baptized in another Christian faith and wish to explore becoming Catholic, and those who were baptized Catholic but never made their first communion and confirmation. Normally candidates begin the process in August or early September, celebrate the sacraments of initiation at Easter, and continue until the beginning of summer.
Those with questions about whether being received into the Catholic Church is right for them or if this is the right time for them are welcome to attend a few sessions without any obligation to continue. For more information, contact Fr. Joe at 312-644-0036 or email jchamblain@assumption-chgo.org.
Shown below: At the 12:15pm Mass on Sunday July 19, 2020, we celebrated the Sacraments of Initiation with our candidates and our elect. We welcomed Hayley Kane and Laura Pilgram Janoski to the Sacraments of Baptism, Confirmation, and First Communion, and welcomed to full membership in the Catholic Church and celebrated the Sacraments of Confirmation and First Eucharist with Joe Guediguian, Timothy Keating, and Tyler Yates. We also baptized Nora Julia Janoski. Welcome to the faith community of Assumption.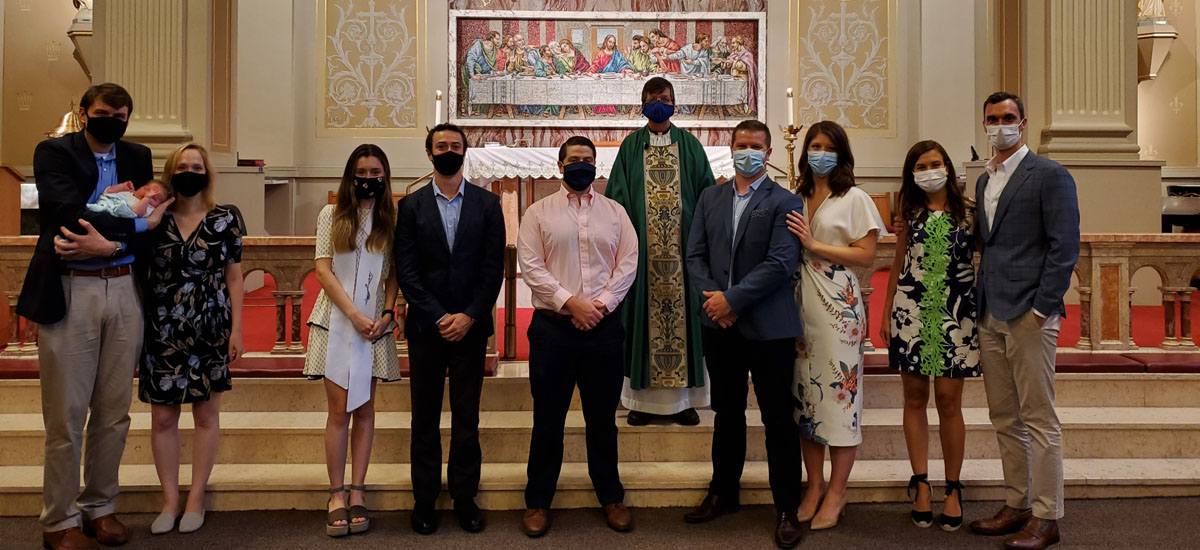 Our RCIA class of 2018: Nine adults who were part of the 2018 RCIA group were baptized or received into the Catholic Church at the Easter Vigil Mass. They posed for a picture with their sponsors on Holy Saturday morning.