Assumption began life as a church for all the Italian Catholics in Chicago in a neighborhood that was heavily Italian. Even as the Italian families began moving out of the River North area in the 1920's and 1930's, they continued to return for festivals and celebrations at Assumption. During the years when there was practically no one living in the neighborhood, the Italian Dinners continued, with the old time recipes handed on from generation to generation.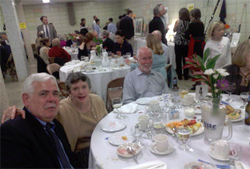 Until recently our Italian Dinner in November and our Homecoming Picnic in August were times when long-time members, descendents of the historic families that helped build Assumption, and the newer residents of River North come together to celebrate the goodness of the Lord and the joy of being friends.
More recently, to accomodate the construction activity next door, we have launched a "Taste of Assumption" as a fall fun/fund raiser balanced by an "Italian Gala" in the parish hall in the springtime.
During the year we find many other occasions to celebrate.